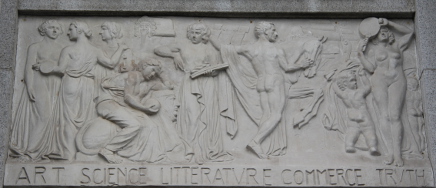 The first trip
Night of Shanghai, night of Shanghai, it's a sleepless city
Beatiful light is on, the sound of cars, people dance and sing
You can only see her smile, no one knows her sad
She earns for life in the night of Shanghai...
from a folk song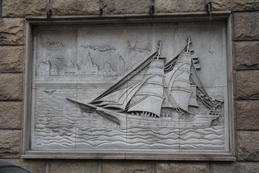 Xujiahui astronomical observatory (166 Puxi road) - is hidden behined the new building of Meteocenter. Was build in 1872 by French Society of Jesus. Mentioned by Jules Verne.
Zi-ka-wei Bibliotheca (80 Caoxi Bei Lu) -- old building of the library, created by French Society of Jesus in 1867. Former building where the priest lived. Containes 200000 books in european languages printed before 1930.
Convent of Holy Mother (201 Caoxi Bei Lu) - a Catholic institute for women included Salvation Hall. Donating Hall, Girls school, school for deaf-mute, orphanage, kindergarten workshops, laundry. Built in 1855. Now the Old Station restaurant with trains in the garden.
St Ignatius Cathedral at Xujiahui (158 Puxi road). Presented on a separate page.
Xujiahui middle school (Hongqiao road 50). Presented on a separate page.
The Community Church (Hengshan Rd 53) is a protestant church built in 1925 in Gothic Renaissance style. It holds up to 700 people. Service takes place every week and wonderful garden with exotic trees is good for praying.
T.V. Soong residence (Building 11 N 9 Dongping road) -now the Shasha's restrunt built in 1936 in Dutch architectural style belonged to Ziwen Soong. Three beautiful daughters Soong were living in this house. Three stories of love are well presented in the menu...
Russian Orthodox Cathedral (55 Xingle road). Russian emigrants raised funds and build the church in 1932. Famous Russian musician A. Vertinsky married here in 1942. The old building in Russian stile was destroyed by Japanese in war. Then a new cathedral was build. It is 35 m high and can hold 2500 people. But still does not belong to orthodox eparchy...
Russian Orthodox Church (16 Gaolan road). Another church raised by Russian emigrants in 1932-1934 in a neo-russian stile. Sometimes Russian Embassy agrees about the service in the church. It was a cafe till lately.
Former Residence of Sun Yat-sen (Zhunshan) (7 Xiangshan Road). Dr Sun Yat-sen and his wife Soong Ching Ling lived from 1918 to 1924. Now a museum.
Old French Renaissance building (6 Xiangshan road) constructed in 1920. Now the living apartments.
To the main page